OPINION | This article contains political commentary which reflects the author's opinion.
---
Let me enunciate this very clearly for you.  Imagine, if you will, this being said in Kermit the Frog's voice.
Cory Booker has ended his presidential campaign.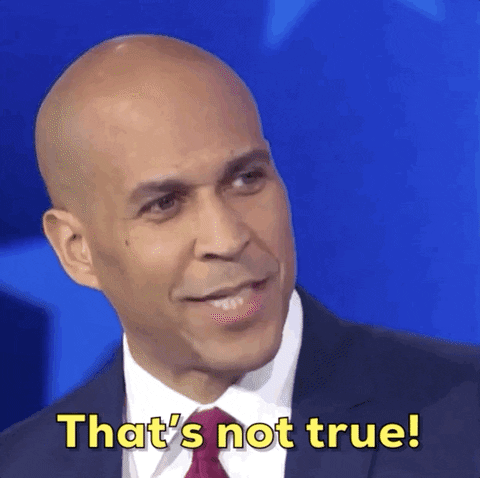 Yes, actually it is true.
It's with a full heart that I share this news—I'm suspending my campaign for president.

To my team, supporters, and everyone who gave me a shot—thank you. I am so proud of what we built, and I feel nothing but faith in what we can accomplish together. pic.twitter.com/Fxvc549vlJ

— Cory Booker (@CoryBooker) January 13, 2020
Booker promised to campaign as hard as he can for the eventual Democratic nominee.
Booker's campaign has been effectively over for some time now.  Booker did not make it on the last debate stage and was not going to be on the stage for the debate tomorrow.
In recent debates he has only been there to campaign for VP.  That also will likely be a failed campaign.  It is unclear why any of the candidates would pick him for VP. His campaign utterly failed to inspire. He could not even garner significant support from African Americans.
President Trump, hard at work as always, took a break to issue this tweet.
— Advertisement —
Really Big Breaking News (Kidding): Booker, who was in zero polling territory, just dropped out of the Democrat Presidential Primary Race. Now I can rest easy tonight. I was sooo concerned that I would someday have to go head to head with him!

— Donald J. Trump (@realDonaldTrump) January 13, 2020
And now we are left with:
Sleepy Joe Biden
Moneybags Bloomberg
Shaky Amy Klobuchar
Crazy Bernie
Grandma Elizabeth
Mayor Peter
Andrew "Freedom Dividend" Yang
Tulsi "I vote present" Gabbard
Climate Crisis Tom Steyer
There are a few others but they have a less than zero chance of winning.
Who do you think will be the next Dem to drop out?
h/t:  Fox News