OPINION | This article contains political commentary which reflects the author's opinion.
---
This is quite rich, coming from the guy who breaks down from a leg cramp.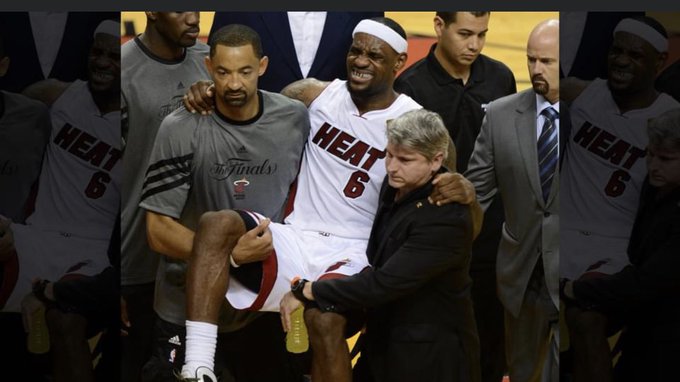 There's a visual for ya.
The 36-year-old Lakers star, LeBron James, is under fire for mocking 18-year-old Kenosha protest gunman, Kyle Rittenhouse, suggesting that Rittenhouse was faking his breakdown in court.
LeBron already doesn't have a good history with these issues, so he should just fake another leg cramp and sit this one out.
The New York Post reported:
Many also reminded the Lakers star of his earlier scandal over his inflammatory tweet after the fatal police shooting in April of Ma'Khia Bryant, 16, as she lunged at another girl with a knife in Columbus, Ohio.

James later apologized for tweeting out a photo of the officer along with the seemingly threatening caption, "YOU'RE NEXT."

"Remember what happened the last time you ran your mouth about a shooting? About the same thing here," Afghan war veteran and one-time congressional candidate Chris Manning told him.
Sheesh, either someone isn't showing enough remorse, or they're showing too much? It's never enough for these libs.
Oh, and aren't we supposed to encourage men to show their feelings? Or is that only pertaining to the wealthy liberals? Asking for a friend.
What tears????? I didn't see one. Man knock it off! That boy ate some lemon heads before walking into court. 🤣🤣🤣 https://t.co/LKwYssIUmD

— LeBron James (@KingJames) November 11, 2021
Yes, the kid is an ugly crier and quite expressive. But I think it's important to remember that he's a KID.
Twitter did not take kindly to LeBron's ignorance –
To know you is to dislike you. How could an individual be wrong on every conceivable issue? What an execrable schmuck you are, respectfully of course.

— Gad Saad (@GadSaad) November 11, 2021
You would know all about faking.

— Sara Gonzales (@SaraGonzalesTX) November 11, 2021
If you are suggesting he was somehow faking it, then he is a much better actor than you were in Space Jam.

— Dan O'Donnell (@DanODonnellShow) November 11, 2021
You're mocking a (then) 17 year old's panicked, life-or-death actions? Wow. That takes some courage, big man. You should be ashamed of yourself.

— Diane Dimond (@DiDimond) November 11, 2021